Quest Government & Law Enforcement Vehicle Lens
Law Enforcement, Government, Taxi, and Fleet
Attention: Sheriff Departments, Police Departments, Highway Patrol, State Trooper, Fire Departments, Local/State Governments and all other fleet Directors. Quest Precision Technologies is now offering contracts on doing your vehicles headlights and light bars/Turrets. We offer you a guarantee on all the lens repair, restoration and refinishing. Please read this section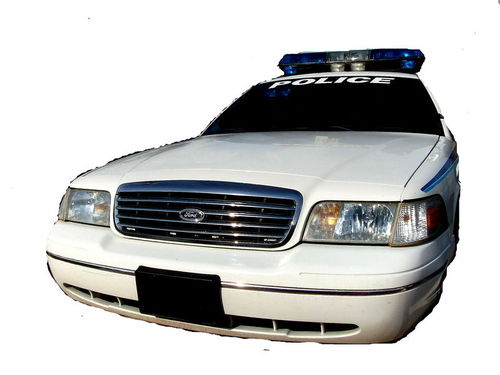 It takes our technician 6-8 minutes to do the average healight lens. The lens dries to touch in 15 minutes and cures and hardens in 12 hours. Quest price under $30.00 per vehicle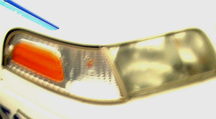 This lens is badly contaminated with road salts, oils, fluids, and acids. The lens is sprayed with our cleaner the film will run off the lens leaving it clean but oxidized. We spray it with a cutting solution resurfacing the lens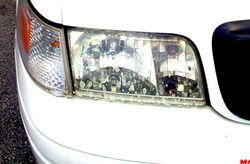 The cleaning solution we use is our own patented formula and it will not hurt the painted surfaces. Alot of companies that buff lens grind them down with 80,150, 320, 600, and 1000 grit sand paper, this weakens the stucture and causes them to crack. It takes a dealership or repair shop 45-90 minutes to buff lens. They reseal them with a polymour/wax and after several washings they recontaminate. We can refinish both headlight lens in 6-8 minutes and your down time will be about 15 minutes total and you can be own your way. We have two request that you not wash your car for 24 hours as to protect the lens coatings from water spotting. We tell all our retail and commercial accounts not to use abrasives or harsh chemicals on the headlight lens just mild soap and water our product has been field test now for 6 years and our test vehicles lens still look like brand new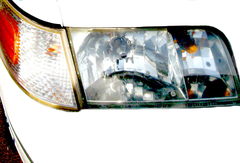 This lens looks and performs like new, total cost for refinishing this 1999 Ford Crown Vic Headlight Lens is under $30.00 This is a permanant fix Guaranteed. New headlight assembly from Ford $160-225 plus labor
This simple rain can give life and it can take it away as with the first several minutes of rain these road chemicals, salts and acids can be splashed on your headlight lens and destroy the bulds ability to illumante the road at night We do not make bids we offer one price. There is no other company in East Tennessee that uses our process or chemicals. Therefore we do not compete with them and our services are cheaper priced as we can do more lens in the same time period it takes for them to do one set. Our Mission statement that we are more concerned with saving lives then we are making big profits
QUEST PRECISION TECHNOLOGIES WILL BE GLAD TO SEND YOU A LAW ENFORCEMENT PACKET WHICH INCLUDES PICTURES AND A DVD SHOWING YOU ARE PROCESS OF REFINISHING, REFURBISHING AND RESTORATION. CALL QUEST AT 865-237-4227 WE ARE LOCATED IN KNOXVILLE TENNESSEE BUT WE CAN TRAVEL TO YOUR CITY OR LOCATION TO DO YOUR VEHICLES LENS. WE WILL DEMONSTRATE QUEST PRECISION TECHNOLOGIES PROCESS FREE FOR YOU ON ANY TEST OR DEMO VEHICLE YOU CHOOSE. WE OFFER FREQUENCY DISCOUNTS IN ADDITION TO OUR LOW PRICES. OUR PACKETS INCLUDE REFERENCE LETTERS, BEFORE AND AFTER PICTURES OF VEHICLES AND DVD THAT ACTUALLY SHOWS THE PROCESS FROM BEGANING TO END. WE DO ANTIQUE VEHICLE LENS, PASSENGER VEHICLE COMMERCIALS 18 WHEELERS, BOATS AND MOTORCYCLE AND ATV LENS. INTERESTED IN OUR RESTORATION YOU CAN SHIP YOUR LENS TO US AND WE WILL DO THEM AND RETURN THEM IN 3 DAYS....
Brief Description
Brief Description
The light bars or Turrets take about 2 hours to do and like the headlight lens dries in 15 minutes and cures and hardens in 12 hours. Quest can repair, redye and refinish any color for under $75.00. model, lens number and size affects price. The above vehicle had 8 small lens in addition to the main 3 piece lens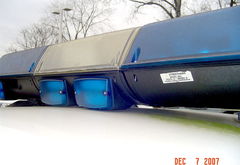 This light bar or Turret suffers the same thing as the headlight lens to the left. Except its contaminated surface has been cooked alot more due to color and its' exposure to more sunlight. The cleaning process is the same as the headlight lens proceedure but you are dealing with more surface area and more damage. In alot of the light lens we have done they have been faded and had to be redyed. Quest patented coatings will permanantly seal the surface and the lens will look and perform like new. The price of lens replacements run $125-140 depending on brand and model. Quest restoration runs $75-100 a fourth the cost of replacing with new lens
The same light bar/Turret after being refinished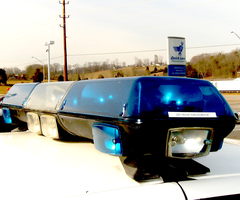 The light bar/Turret look as good as new with a better then factory patented polyurathane finish that will out perform the acrylic factory finish and never re-contaminate or turn yellow.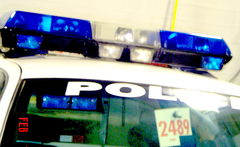 This squad car looks like a 2008 model, the refinishing of the headlight lens and light bar/Turret greatly improved the appearance and performance of this vehicle. Most Important the men and women who drive this car can see better at night because they no longer drive with impaired vision and when they are on an emergency there lights can be seen as to alert drivers of their approach.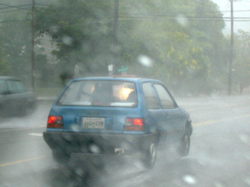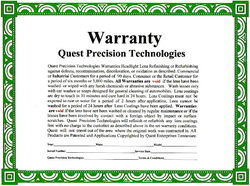 Quest Precision Technologies is so sure of our patented process and we will put it up against any other company that buffs or polishes headlight lens, we guarantee it in writing.
Sample Photo 13
Brief Description
Free